Become a graphic designer: Every single graphics designer had started without experience. It's true that today no client and company can hire you without experience. But to get experiences and to look like a professional graphics designer you have to work on self-branding and marketing strategies.
And in this guide, you will get many ideas and practical suggestions to get hired by companies or clients as a graphics designer. No matter you have just completed your graphic design degree, course or you're looking to get projects online to work from home, this article will help you get valuable tips.
So, let's get started: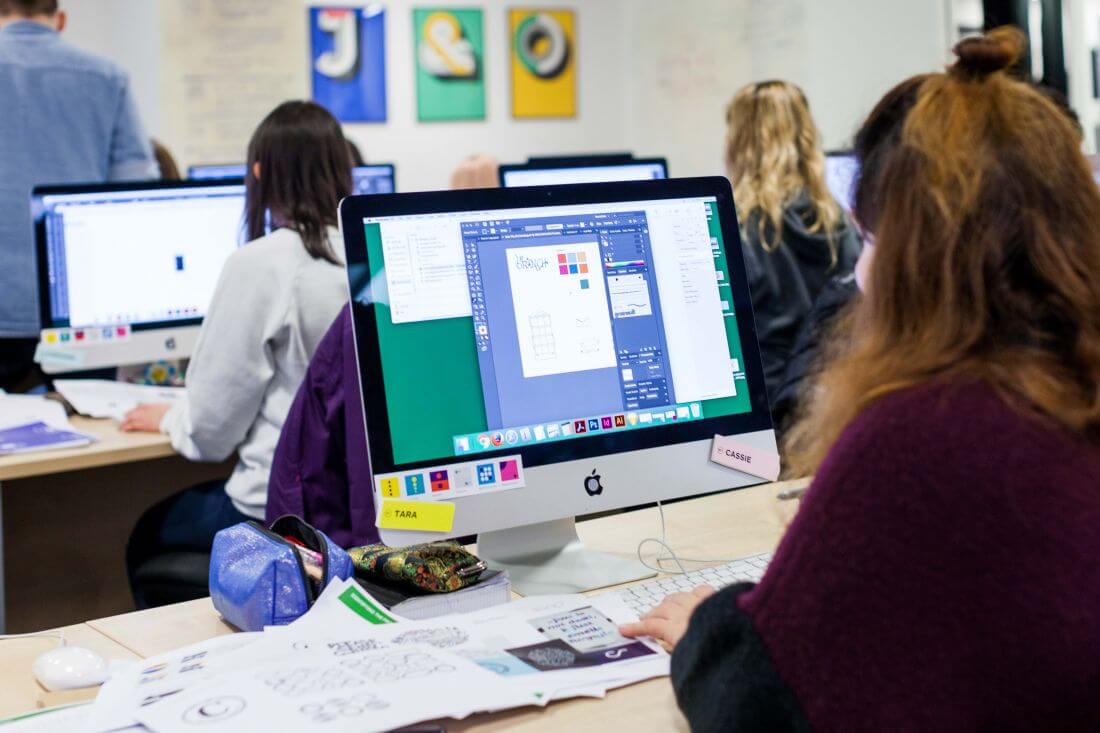 Become skilled:
Complete your online or offline graphic design course and degree. Become skilled and expert in the most famous graphics design tools such as adobe photoshop, affinity designer, procreate, adobe illustrator, Adobe InDesign, and various other online tools and platforms. At least you know the basics of 2-3 popular design tools.
It can take you 2 months to become skilled and expert in using design tools. But tools don't make a designer, you also have to learn about branding, coloring, object, and the impact of certain designs.
Learn on graphics design YouTube channels, online courses, blogs, eBooks. Dedicate yourself for 2 months for consistent learning and practice. Even min. 1 month is very essential to find out and become comfortable in design trends. And also learn books related to entrepreneurship and business.
Portfolio versus experiences:
You haven't worked for any client and company. You have no job experience. And you're not highly educated in graphics design. And you have nothing to add to your resume or profile to convince the client. That's about the experience.
But you want a job as a graphics designer or you want graphics designing projects. You don't need experience. You need a portfolio.
A portfolio is not only about past jobs/works/clients, but it's also about what you're capable of doing.  And you can showcase your capability in the portfolio.
Target specific industry or businesses:
You want to work for media clients or companies or you want to work for digital marketing or e-commerce or graphics design companies. All these companies can hire you based on your portfolio.
But one thing that makes things easy is to target and create a portfolio based on your interest. If you're interested in logo design then target graphics designing companies. If you're interested in product design/photo editing then target e-commerce companies.
Plan your portfolio strategically:
Create your own self hosted portfolio WordPress website or use free online platforms, both are effective. But in the long run, your self-hosted portfolio WordPress website is much more effective than any other solution.
It's because your website as a graphics designer benefits you many things. It's your online presence, your shop, your brand. So, think accordingly.
Also, create unique things that people like to sue and share. For example, you can create typography logos as a sample, you can showcase your photo editing skills by listing before and after the sample.
Create and optimize your personal portfolio website for specific customers and people. You have to attract specific people and organizations. And whenever you submit a job proposal and interview and you can link your website or portfolio and your creative capacities.
Create samples and add in your portfolio:
Get inspiration from trending designs, highest rated, and bestseller and then try to create similar designs. Also, use keyword research tools and find what kind of designs people are searching for more. And then create similar designs to showcase in your portfolio. You can also see the demand in graphics design jobs, projects, marketplaces. If you have your best 50 designs on your portfolio website then it's very helpful to showcase your talent.
Use the power of content marketing:
You don't become a graphics designer after a course. Not you become if someone hires you for a graphics design post. You become based on the work that you do. What do I mean?
Utilize social media platforms especially Facebook page and Pinterest:
Create creative content and utilize the Facebook business page and Pinterest board space to make your designs/services/brand name and yourself viral. When the public starts appreciating your designs and creative ideas it will become your portfolio that inspires clients, companies to hire you.
Submit the designs on online marketplaces for sale:
To become a successful graphic designer financially and publicly you have to expand your works and services. And one expansion of that is to sell your designs to online marketplace websites. Design landing pages, apps icons, popups, newsletters, and various other graphics and list them to sell.
Apply through career pages of companies:
Many companies list vacancies on the career page on their website. You can follow interesting and authentic brands and keep an eye on job openings. You can also contact them directly through the contact page.
Use freelancing platforms and start bidding:
Freelancing platform is effective in the short term but not beneficial in the long term especially when they change their policies. You always need a backup plan. And that backup plan is your own portfolio website.
But you can still try to bid on the projects that suit you well. Not only that bidding help to learn effective communication, and help you become competent.
Repeat the process:
I am not saying that I do exactly the same as I am saying. You can make it more interesting and effective. But whatever you do, make sure that you try each method twice or until you're not successful.
Give yourself time to become a successful graphics designer:
To become a worldwide or citywide known graphics designer, you have to give time to yourself. It can take many years. But you have to combine your graphic design skills + you have to use business ethics and you have to be ready to fight with big brands. And to win the battle, you have to be creative and skilled.
Learn from the experts/identify what they are doing:
Never think in your career that now you're an expert or you know everything and you don't need to learn. Instead, be receptive to new ideas. And schedule the time to learn graphics design skills from experts and market trends. It will help to remain competitive in the market.