Most of the bathrooms and kitchens are designed with ceramic tiles because they are water-resistant and cost-effective. But, you need to clean the tiles and grouts of ceramic tiles because such grouts are sealed with sand and are porous in nature. Liquids poured and spilled on these floors is a common issue and such grouts can collect soil and moisture over time. Liquids like water can evaporate after a certain time, but the soil remains in the grout. After a certain timeframe, you can find your floor darker and you need to hire an expert for tile and grout cleaning.
How would you clean the tile and grout?
Before tile and grout cleaning, you need to identify the nature of the soil. It can be biological or organic. Even, the residue of cleaning agents can get deposited inside the grout. When you install such ceramic tiles, you need to seal such grout with protective sealants. You can seal such grout every six months. Once you identify the type of soil, you need to arrange some tools, equipment, and cleaning agents.
You can follow the below-mentioned steps for tile and grout cleaning:
Installing stripping: Before you clean the tile and grout, you need to remove the floor finish and you can use mixed stripping products in this regard. You can contact the manufacturer of such tiles to choose the best quality stripping solution. Apply the solution to the floor and let it dry. Now you need to use a stripping brush to remove such a solution from the floor and remove contaminated soil from the grout with a vacuum cleaner. You can find some soil and residue on the edges and corners of the floor, and you can use a hard brush to remove the same.
If there is no floor finish available, then you can simply use an alkaline cleaner to remove the grease from your tiles. You can remove the soil and all residues from the floor by using this solution and you need to repeat this process three to four times.
Cleaning the grout: Sometimes stubborn soil can penetrate into the tiles and you cannot remove them from the grout lines. In this case, you can use a hard brush or vacuum cleaner to remove such rigid soil. After removing the soil from the grout lines, you can apply some acidic cleaning solution to the grout lines. Make sure, you should not use such acidic solutions on the tiles directly because ceramic tiles can get affected and stained by such cleaning agents. If you have any confusion, then you can hire a professional company for tile and grout cleaning.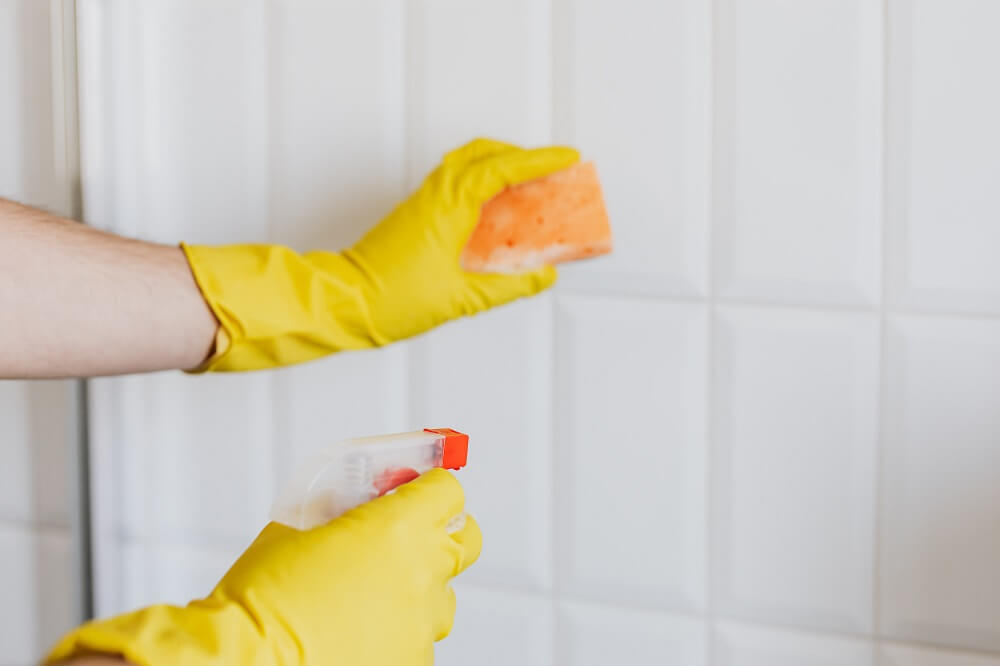 You can also use a V-shaped grout brush to clean your grout lines. If you cannot remove the soil from the grout, then you can use a knife to remove the sale. There are some small handheld tools available with carbide blades and you can use these tools to clean the grout lines.
Sealing: Once you clean the tile and grout lines, you need to seal them with a sealer. There are three types of processes available for grout sealing, you can directly apply the sealer on the grout and let them dry or you can apply the sealer on the entire surface and remove the excess sealers with a towel or you can simply use a readymade sand-based sealer to seal the grout.
You need to use alkaline and acidic solution for tile and grout cleaning, and they are very dangerous in nature. So it is better to take proper precautions before you clean the grout. In this case, you can hire trained professionals to clean the same.