An optometrist diagnoses and treats visual problems, injuries, manage diseases, and many other eye disorders. Mostly optometrists can be found working in optometrist offices managing stand-alone work. A qualified optometrist can also be found working in a doctor's office, and sometimes they are also self-employed. Most optometrists go for full-time work, while some work on weekends for accommodating the patient's needs. Some of the traits of a qualified optometrist are –
Personality Traits
A well-qualified optometrist will have some particularly different personality traits. Any optician must have the capability of mingling with patients and visitors properly. They should be outgoing and friendly in nature.
A good optometrist will always be genuinely concerned about their customer's needs and should be able to solve their eye problems quickly.
These personality traits are the main factor on which the success of his workplace depends. Therefore, there are many employers especially optical showrooms which assess the behavior, attitude, and other traits of the certified optometrist before even considering other aspects.
The employers know very well that they need a qualified optometrist who has a positive attitude and charisma. In most cases, optometrist spends more time with their regular patients than with anyone else on their team. Hence, quite a big part of the business depends on what type of customer service optometrists provide their customers with
Training And Education
A qualified optometrist will have complete formal training and education. There are a few places where you do not find good optical training institutes, there the employers take up the responsibility of giving them the required training and education.
Any educated and well-qualified optometrist will know the basic things like fitting frames correctly, making alterations in the lens, and managing and keeping track of the inventory.
A successful optometrist has to have a friendly personality along with the knowledge to perform all the tasks efficiently. Even a qualified optometrist needs to create a positive impact on their customer's mind, or else the education that they have gained in their institute will be of no use to the clinic.
Any optician who does not have a friendly personality will find things very difficult in their job.
Responsibility Of The Job
A qualified optometrist mostly spends his/her time with the customers. There are very few general tasks in the office which they are given to perform.
Optometrists that work in hospitals, clinical setups, and other ophthalmic institutes take part in eye expos, international conferences and science exhibitions, and other such activities.
A well-educated optometrist takes part in varieties of conferences and takes notes on what type of fashion trends are happening in the world of eyeglasses and lenses. . Also, they take part in training events where they learn different things about frames and lenses.
There is much more such information provided in these events, and many qualified optometrists are asked to be actively involved.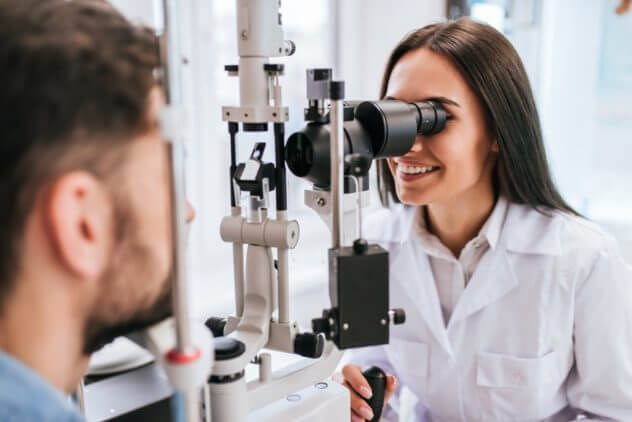 Positive Reputation
A person may only go for an eye checkup once a year, but still, the optometrist needs to be a person who makes him or her feel comfortable.
An optometrist with a good reputation will get many more patients than a person who does not have that good reputation.
Every professional optometrist will worry about maintaining a good reputation.
A qualified optometrist might be very efficient with his/her work, but the customer will choose to go for an optometrist with a better reputation. Any optometrist with a good rating will provide all their customers with equally good service too.
A qualified optometrist will be very particular about whatever treatment they provide the customers with. Most patients avoid going to optometrists with high medical expenses. Therefore, go for a well-educated, experienced optometrist.