A t-shirt with some prints or graphics is popularly known as graphic t-shirt. One can not deny the fact that t-shirts are a staple of every wardrobe be it women, men and kids wardrobe. Beyond the shadow of a doubt, T-shirts play a pivotal role in serving your style statement. Graphics t-shirts are most comfortable and evergreen attire of your closet, these t-shirts can be worn as casual and smart casual. Some t-shirts come with beautiful quotes or messages that help you to convey positive messages to society. You can convey quotes without even uttering a single word. Funny and eye-catchy slogans on t-shirts not only make you look cool but also make you very alluring like a t-shirt with funny print.
Graphic couple t-shirt are also in trend these days. These days, declaring a love to your love ones has become so expensive. But don't worry, here you have the option to give a couple t-shirt with beautiful messages or prints on it, that you can buy at very reasonable rates and may declare your love to your dear ones.
There can be a variety of ways in which you can wear such t-shirts
FOR GIRLS
Usually, it is believed that graphic t-shirt won't look good on girls. But it's a wrong viewpoint. Girls should wear, what they want, what they think, will reflect their personality. Here are some suggestion for toning your t-shirts that makes your dress to rock.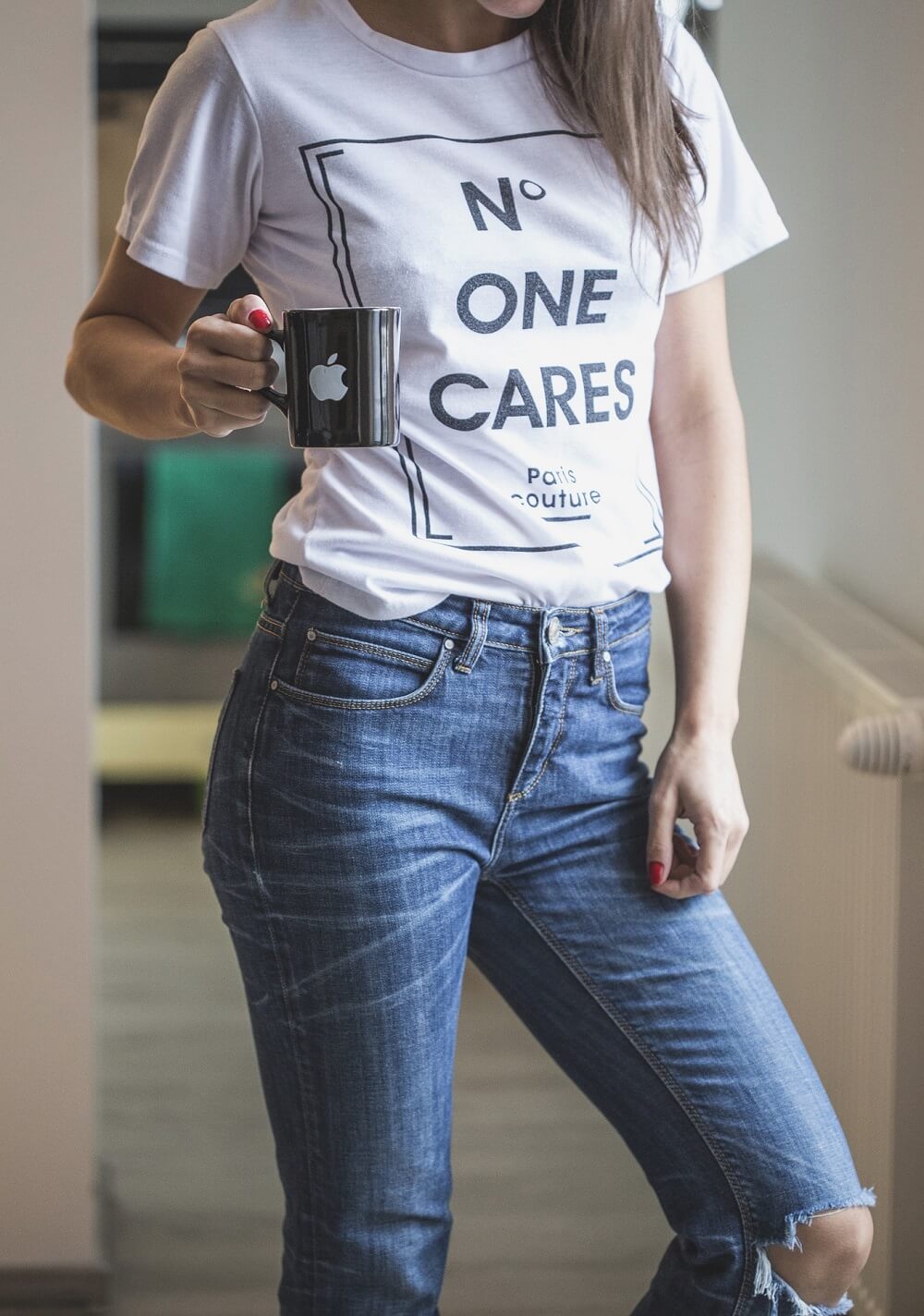 Bottoms- yes, of course, you need a bottom to layer your t-shirt in an elegant way. You can wear a variety of bottoms with your printed t-shirt namely skinny jeans, boyfriend jeans, flare jeans, boot cut jeans, cigarette jeans, ripped jeans, low rise jeans, Capri jeans, patchwork jeans etc. Do tuck your t-shirt with boyfriend jeans, boot cut jeans, flare jeans, ripped jeans. For some funky look wear it with patchwork jeans. You can also pair your t-shirt with asymmetrical pleated skirt or denim shorts by tucking it inside to flatter your style.
Footwear-  to keep it casual, a pair of white sneakers are good to wear. For the smart casual purpose, you can pair your t-shirt and jeans with classic pump heels. If the temperature drops, you can pair it with high heeled boots.
Accessory- accessory and clothes are equally important in your outfit. Accessory though takes very little space of your wardrobe but are very important to complete your look. Accessories like bucket bags, soft clutches, wide waist belts, padded headbands, earrings, chokers, chain necklaces, watches, scarfs, sunglasses, mini pouch etc are in trend these days, one should pair these accessories with one's outfit to flaunt the look.
FOR MEN
This is quite unusual that most guys look awful in graphic t-shirts.  But I think you don't know how to style it properly. Some suggestions regarding styling of such t-shirts that you are going to love are mentioned below.
Bottoms or jeans- there are varieties of jeans and bottoms for men namely- straight, slim, tapered, skinny, loose, boot cut jeans, chinos, casual trousers, cargo, formal trousers, casual trouser etc. For the casual purpose, you can wear these t-shirts with chinos by pairing it with denim jackets and a pair of sneakers. Avoid wearing such t-shirts with formal trousers and casual pants. For some funky look, you may team it up with your joggers, cargo and track pants. You can pair it with your cargo shorts and capris for some cool look.
Footwear- chic and attractive footwear express your artistic ability. To nail the look, you need to match your shoes with your outfit that helps you in creating the perfect and complete look. A pair of loafers, sneakers, boots, combat, hybrid boots go well with these t-shirts.
Accessories- It is not only important for women to add an accessory to their look. Men accessories provide them with a subtle touch that ties an outfit together in a good way. Accessories like men's watches, rings, hat, neck chains etc. You should use this accessory in a way that it complements your outfit, you just don't need to override it. Pairing an accessory with your outfit is like icing on the cake.
The above suggestions that you can follow to nail your look.
There are a plethora of t-shirts available on an online fashion shopping app. If you want to purchase t-shirts with some prints or graphics, you can visit MYNTRA, FLIPKART, AJIO, BEWAKOOF, SNAPDEAL etc. All these shopping apps are very authentic and offer a quality product. Online fashion shopping apps provides you with an array of quality products at a reasonable price and also offer you comfort shopping. You just don't need to stagger in busy markets for shopping anymore.