Pallet wrapping supplies and storage have been made possible only with effective pallet wrap. However, this wrap is stretchable plastic that keeps your material tightly bounded. Not only that but it also acts as waterproof for your products and prevents moisture and dust. There is no denying that this is the latest trend being used for packaging purposes.
Well, it is available in several orders, to name a few
Colours
Widths
Thickness, etc.
To this modern era, product supplies are something which is growing super-fast with next-level speed. Hence, pallet wrapping supplies demand is growing at a rapid speed. Ongoing, stretch wrapping is going to be so far the most common method. This solution to distribution centers was evolved to the warehousing world in 1970 and became the most preferred choice for wrapping pallets.
However, a few small businesses still use manual stretch wrapping for their pallets.  Many businesses and warehouse organizations irrespective of being a large-scaled one or not make use of stretch pallet wrapping. Let's avail the different types of stretch wrappers
Types of Stretch Pallet Wrappers
There are three types of stretch pallet wrappers that are being used all over the world. These are:
Turntable Stretch Wrappers
Overhead Semi-automatic Stretch Wrappers
Robotic/Fully Automated Stretch Wrappers
Let's Address Each Type In Details
1. Turntable Stretch Wrappers
A very basic product handling equipment with a very simple design among all the wrapping equipment. Also, easiest to use and apply.
However, with this technique, pallet wrapping supplies are evolving at a rapid speed.
It's also the least expensive of all the wrapping techniques and is proved as the best equipment for smaller warehouse operators.
Opt for the turntable stretch wrappers today with us and grow your business supplies.
2. Overhead Semi-automatic Stretch Wrappers
This wrapper technique is highly advanced to that of turntable wrapping. You will the reason below:
With overhead semi-automatic stretch wrappers, you need not to revolve the pallet for wrapping but you need to remain at one point only and the overhead stretch wrapper film revolves around the pallet.
Well, overhead semi-automatic stretch wrappers are a bit more expensive than turntable wrappers but it makes up for the extra paid cost by increasing the productivity.
Going forth, if you're looking for something middle ranged stretch wrappers then overhead semi-automatic stretch wrappers are exactly for you.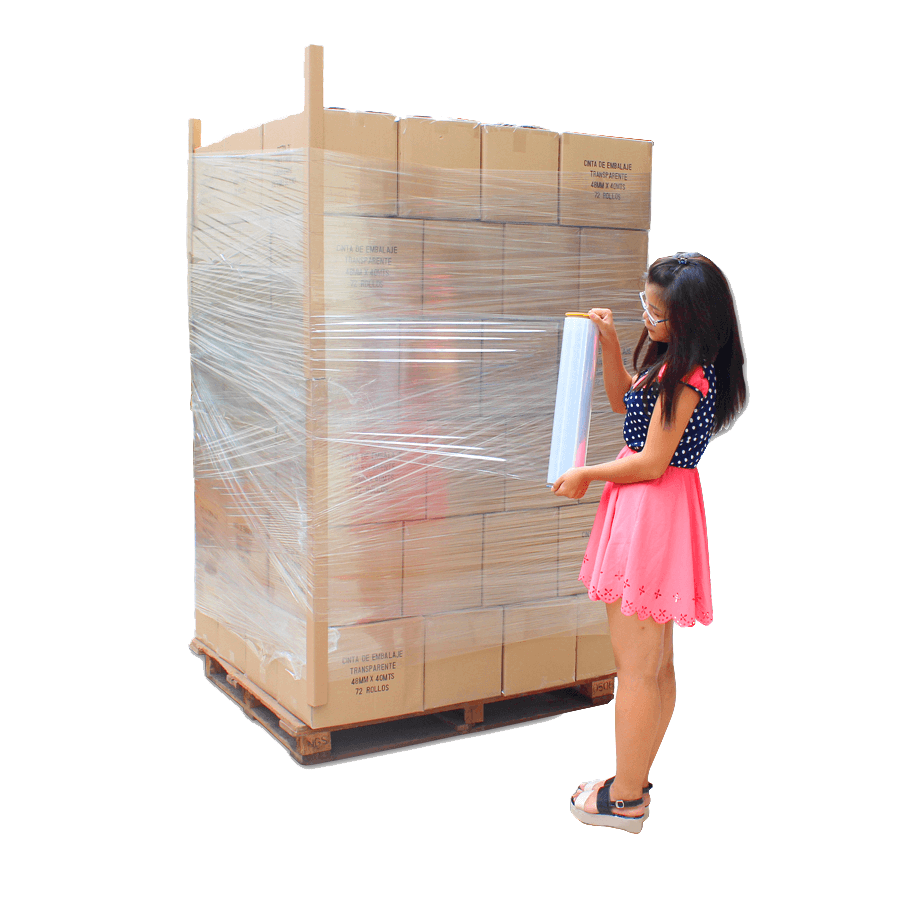 3. Robotic/Fully Automated Stretch Wrappers
Completely similar to its name robotic and fully automated stretch wrappers. Yes, you heard it right this technique is fully automated, and hence the pallet wrapping supplies at a good pace.
Automated wrappers machines are robotically programmed and automatically receive pallets on the platform and stretch the wrap around the product within no matter time.
With robotic being fully automated stretch wrappers, the labor costs and complexity of pallet wrapping fall to zero. This gives the business a boost and clients can benefit from this.
Though they are expensive than any other technique but the payback is damn pertaining. Big warehouses and a large number of small businesses to make use of this fully automated robotic stretch wrapper.
So, if you also wish to automate the entire warehouse mechanism, opt for the robotic automated stretch wrappers.
Last but not least, if you own a warehouse, small business, mid-sized or large business and are in need of increasing the pallet wrapping supplies then you're at the right place. there is always the best shop and companies available that are willing to create a custom made wrap for you.