Regardless of how much intense the bathtubs vs. a shower enclosure debate may get, most people think about having both when they imagine having a dream bathroom. That's why a typical shower and bath combo has long been so popular in the UK that we have not seen any other trend besides it. What we often consider a luxury master bathroom usually has a bathtub and a shower enclosure. Then we also have a Bathtub fitted in the shower cubicle as a combo unit.
If you want to renovate your bathroom, you may feel confused about installing them as a combo or a separate unit. In this article, we are going to discuss the pros of both of these scenarios to help you decide the best option for your bathroom. 
Option 1. Separate Shower Enclosures and Bathtub
When it comes to installing the baths and a shower separately, there are a few advantages that you can expect. For example, there can be an open choice where you can fit a bath in a separate bathroom during a shower enclosure in another. It all depends on the preference of the people living in the house. It may even save you the cost as people may not even want to take a bath as it can be a more open-ended choice making your bathroom look less congested. However, while installing them separately will also make you face a few challenges that you will need to keep in mind for a separate shower enclosure.
The first issue is the availability of space. Most bathrooms lack space. Even if you have minimalist bathrooms are the latest trend that is not going anywhere soon. But with separate bath and shower cubicle options, you have to make space for both separately. That means within this scenario, you will need a lot more space to adjust them separately. In addition to that, a bath without a shield or shower screen or a shower with an enclosed cubicle will result in water splashes outside the shower area. 
Option 2. Combined Bathtub and Shower Enclosure
Many people love fitting the baths inside the shower area as combo units. When installed in the master bathroom, it looks great and allows you to take either a bath or a shower as per your choice within a single bathroom. Another advantage of this scenario is that it is a space-saving option. That means you can install it without worrying about having the space covered. Moreover, it is a great option when many people live in the same place, and you need to take care of their likes and provide them amenities accordingly. Even in some cases, it is also possible that you use both a bath and shower enclosure at the same time. For example, if a person is sitting in the bathtub and your wife wants to wash her hair, it is possible in this scenario.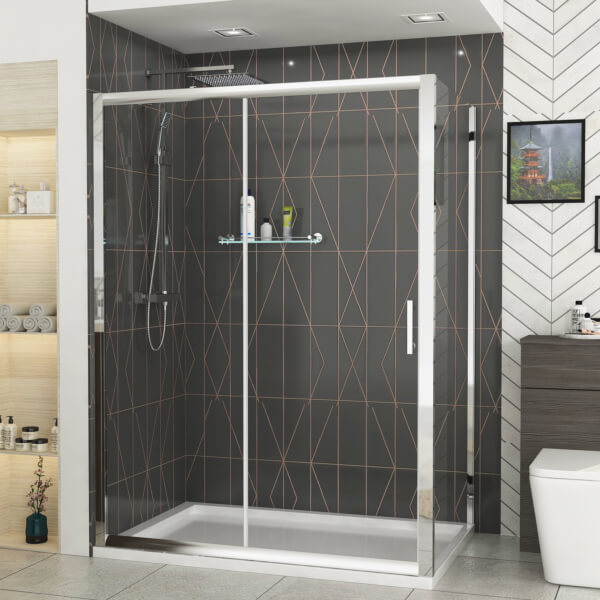 You can have the shower curtain in the place to make it possible. It will even prevent water splashes from coming out of the area to prevent water damage. Moreover, since it is a space-saving option, you can install it in a relatively small space or can set it up without compromising too much on the space. In addition to the above-discussed advantages, you will also have a few disadvantages: if you want to fit the bath into the shower enclosure, you will need an enclosure that is larger than a standard shower cubicle.
However, installation and unit costs are often higher than the standard installation. And in comparison to having both of separate fixtures where two people can have a bath or a shower as per their requirements when both fittings are in the same place, only a person may be using it at a time. Leaving others waiting for it behind. When you have both bath and shower enclosures in the same place, accessibility for people with limited mobility can also be a big concern. 
Which One Should You Use?
Preferring a bath and enclosure in separate spaces or at the same fitting is not an easy decision without knowing a few other details. Based on the information provided in the above section, it should be purely your decision based on your circumstances.
Final Thoughts.
Installing a separate bath and shower enclosure or a bath fitted inside an enclosure are great options for their own reasons. Both look great in terms of aesthetics. However, preferring one over the other should be based on the size of the bathroom, your preference, space available, and budget. Generally, if you have a master bathroom with ample space available, then you can install both separately. Or even install a bath in the bigger enclosure as per your choice.