it shouldn't be an unknown factor to you that plastering is one essential part of your house. It protects your house from weather damages. Also, without having your house plaster, the bricks of the walls might get damaged soon. Therefore, plastering are important, and more important are the plastering tools to execute the entire process.
The skill of plastering develops with time and experience. If you are a professional, you know everything inside out. But if you are new to the plastering job or want these for DIY jobs, make sure you go through the entire article. Let us take a look at some of vital plastering tools: 
Basic Tools That You Need For The Plastering Job 
It's no secret that having the right set of plastering tools can make a world of difference when it comes to a specialized trade skill like plastering.
Not only can the finest plastering tools save time on the job, but they also provide a superior final product. The plastering tools may add that additional touch of quality to your plastering project. Below, we will go through the top ten must-have plastering equipment for any industry expert. Read on to know further.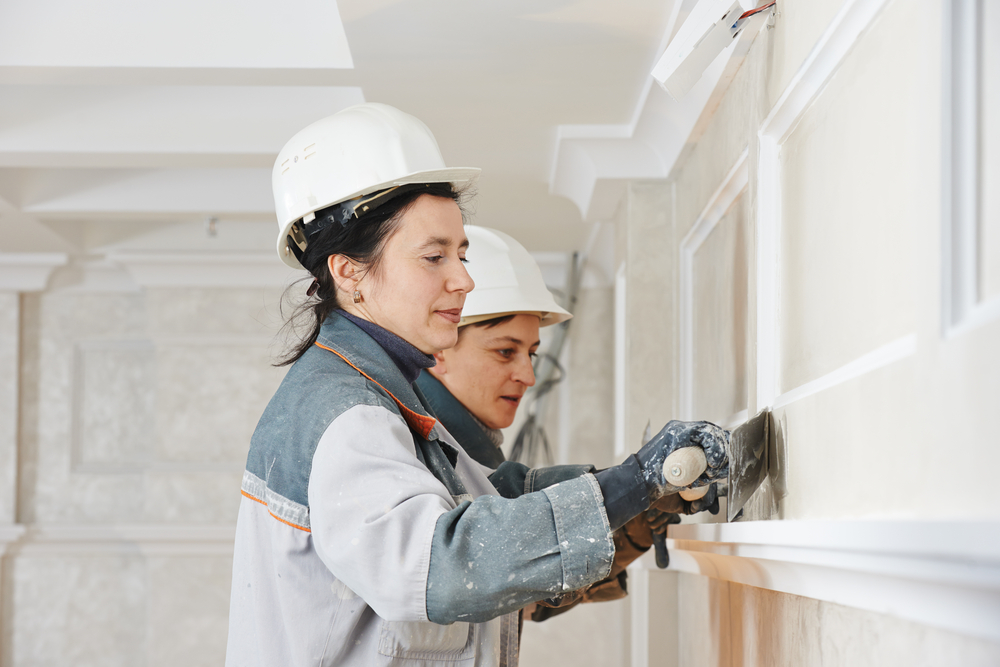 1. Finishing Trowel
The finishing trowel has a flatter and wider blade than the other trowels, making it an indispensable plastering tool. It gets you the smooth finish that you desire. This tool comes in handy so, investing in a good quality finishing trowel won't make you regret it. 
2. Corner Trowel
Corner trowels are blessings in keeping the corner of the wall smooth and even. Run through the corner trowel from up to down and make the plastering even with reducing and adding the mixture as required. 
3. Float
A good float is used to make the top coat of the wall as even as possible. It also helps in making the thickness of the plaster even across the entire surface. 
4. Electric Mixer
Thanks to today's modern technology, no more hand mixing is involved during plaster. This must be amongst the necessary items which are there in plastering tools.With the help of an electronic mixer, no more direct contact of plaster to hands is involved. 
5. High-Quality Mixer Bucket
Next comes a high-quality mixer bucket in the list of plastering tools. It is always advised to carry good quality and moderate-sized mixer bucket. Make sure to clean and dry the bucket before mixing each time. Good quality is needed as the bucket is used hugely and multiple times during the job. 
6. Bucket Scoop
A bucket scoop is needed to take out the wet plaster and put it on the hawk. It also helps in cleaning the bucket. But one must make sure to have a scoop with a good quality handle to avoid any mishap. 
7. Hawk
Having a plastering hawk in the kit allows you to do the job quicker and easier. You can carry the mix on the hawk while plastering the walls. And with the flat surface, you also can even smoother the plaster applied. 
8. Sacrifier
This large comb made of metal is essential for scratching away the plaster before you apply the second coat. For a high-quality plaster finish, have a good quality sacrifier in your plastering tools.
9. Snips
Snips have become very popular in recent times plastering. Make sure to buy longer handle snips as it is handier. A good pair of snips must cut both beading metals that are stainless steel and cold steel. 
10. Paddle Mixer
This is not very well known among all the plastering tools,but paddle mixers are essential in breaking the chunks and lumps in the plaster. It helps in having a smooth texture.
Conclusion
So, that's all there is to it! This was the list of plastering tools to your toolbox, and you will be prepared for whatever obstacle the task may throw at you while plastering your house. You may start from today with these tools, and with practice, you will become an expert in no time!