A baby shower is an important event to celebrate your pregnancy with your family and friends. But feeling comfortable and graceful on this day is a major concern for many moms-to-be. A baby shower lets you choose from endless stylish outfits because you can be as casual or formal as you'd like. You can show off your bump and excitement for your upcoming arrival.
If you are wondering how to choose the best maternity dress for a baby shower, here are eight fantastic outfit ideas to inspire you.
#1 Long Dresses
Many women choose long maternity dresses for their baby showers as they are elegant and provide complete coverage. They are easy to style and perfectly show your baby bump. It is also easy to slip off your shoes and rest your feet.
#2 Knee-Length Lace Dresses
A knee-length dress is best suited for baby showers during the summer. A pastel lace dress can be a charming option. Choose a comfortable, breathable material; a blend of polyester, nylon, and spandex is a great choice.
#3 Off-Shoulder Floral Ruffle Dresses
An off-shoulder ruffle dress with a floral design will make you the center of attention. This kind of dress is a stylish choice that is very trendy and feminine.
#4 Fitted Tops and Floral Skirts
A fitted top with a floral skirt will make you look stylish and cute. Wear a flowing floral skirt to look whimsical and stunning for your big event.
#5 Maternity Maxi Dress
Maternity maxi dresses lend extra comfort as they feature stretchy fabrics.  Choose your favorite color and enjoy this comfortable option.
#6 Maternity Bardot Dress
A maternity Bardot dress is an excellent choice to look fashionable on this special day. They draw attention to the mom-to-be and are a classy style.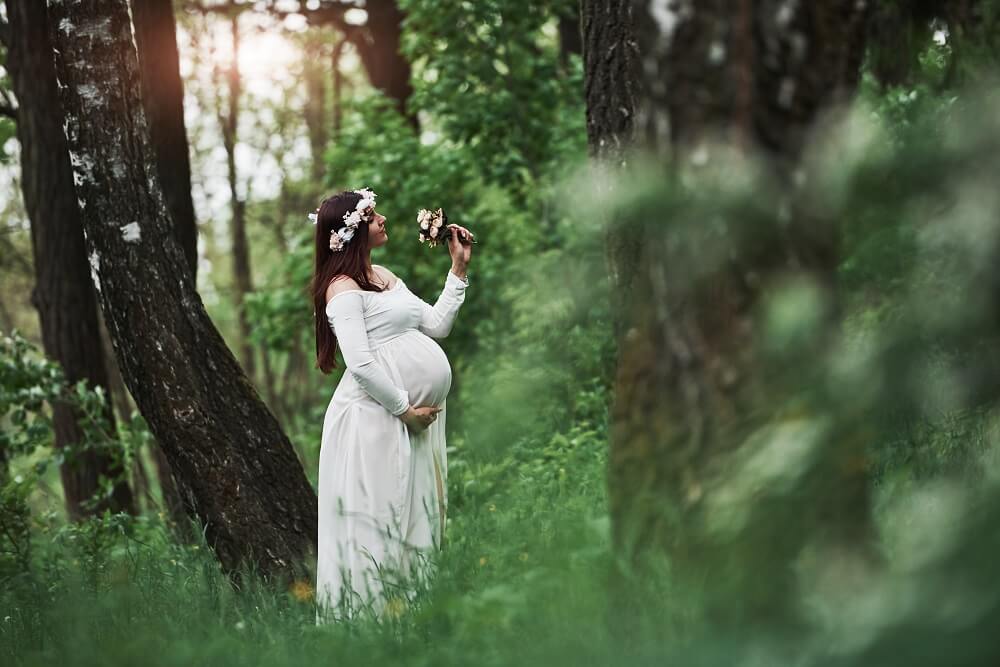 #7 Chiffon Dresses
A chiffon dress is loose-fitting and feminine. It's an ideal outfit for hot weather. This type of dress drapes flawlessly over your curves and shows off your beauty.
#8 Casual Looks
A casual look can be perfect for an outdoor shower or picnic. Choose comfortable maternity pants and pair them with a bright, flowy shirt. For events in the cooler months, you can also wear a cardigan.
It is important to look and feel good in your outfit for your baby shower. As this day celebrates you and your baby, choose something that makes your feel amazing!