A home office used to be an afterthought. Somewhere to keep extra paperwork, files, and warranties. A spot to escape to under the guise of 'getting work done when your in-laws or visiting friends were bugging you.
For many of us, the home office wasn't actually used for work or for study. We didn't have work from home days, the most we were doing was tossing some papers in there and occasionally rifling through them when we need to add something to our insurance policy or do our taxes.
Now with the changes to office culture worldwide in the wake of COVID-19, we are joining the freelancers and dedicated business owners who actually use their home offices as we embrace the mixed bag that is working from home.
It is surprising really, that when you look at the technological advances we utilized to be able to do this, we have had the ability to work remotely as a society for years now. But it was only a global pandemic that actually forced us to realize the potential that we had for working from home.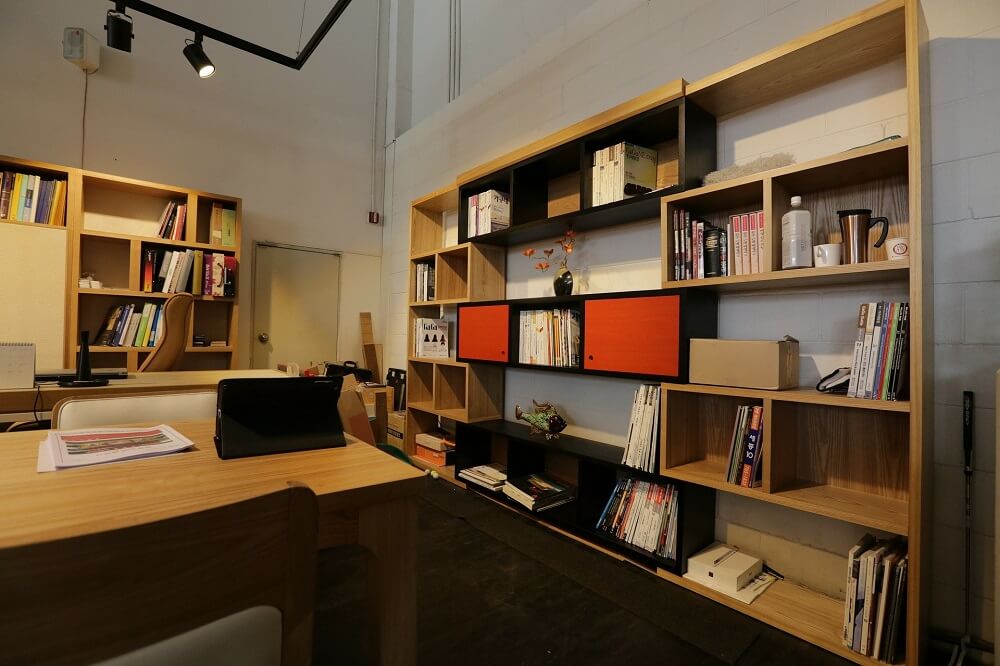 And it's been quite an adjustment. Some of us have flourished in a remote working environment, others have struggled but to get the most out of your home office and set yourself us for success, here are some of the things you'll need to do.
11 Budget-Friendly Home Office Tips
1. Pick Your Spot
One of the most difficult things about working from home can be just trying to keep to a healthy separation from your workday to your home life. If you can, pick a room or a corner that is as far away from your bedroom as possible. This helps to keep the two spaces separate one for work, one for relaxation.
2. Consider Air And Light
Creating a space that feels light and airy will help you feel comfortable while toiling away the day on your computer. Open the windows, position your desk near a window that gets a breeze and some light to make a more relaxed space.
3. Bring In Some Plants
If you don't have a window or you don't get much of a breeze from your position, consider bringing in some sturdy indoor plants. One of the quickest and most cost-effective ways to bring a sense of airiness to space is with some well-placed plants. The greenery will make it feel more relaxed and the plants will act as air purifiers.
4. Position Your Desk For Success
If you're a believer of Feng Shui you'll know to never position your desk so your back is to the door. It's important to be able to see the door when you're working, you'll feel more comfortable. Also don't position the desk so you're working facing a wall, if you absolutely have to you can make the wall into a picture of another world by installing artwork to provide perspective.
5. Trade with Friends
Get on the group chat and see if anyone has a desk or an office chair you can use, maybe you can swap that old bookcase you have been meaning to get to rid of. It's a fantastic opportunity to declutter and help out a friend.
6. Hit up Facebook Market Place and Gumtree
Not only can you find stuff for a giveaway on these sites but if they are charging you can usually knock the seller down by a few dollars and end up getting something basically brand new for next to nothing. Definitely worth checking this out to fit out the new home office.
7. Make A Desk
Rather than buying a new desk or even a second hand on Facebook Marketplace or Gumtree, think about making a desk. A slab of wood positioned over two filing cabinets or drawers of the same height will give you a decent-sized desk with extra storage space. You can sand and paint the wood to get the right vibe for your new space and presto it's home office-ready.
8. Use What You Already Have
You don't have to go out and buy any new furniture to set up your home office. You can simply take a look around your house and find what might work in the new office space you're setting up. Maybe there's a comfy chair in the living room you don't really use, maybe there's a little table or a decorative writing desk you are keeping for someone. Use what you have lying around, repurpose, repaint and rework what you already have before looking for perfect new shiny pieces to add.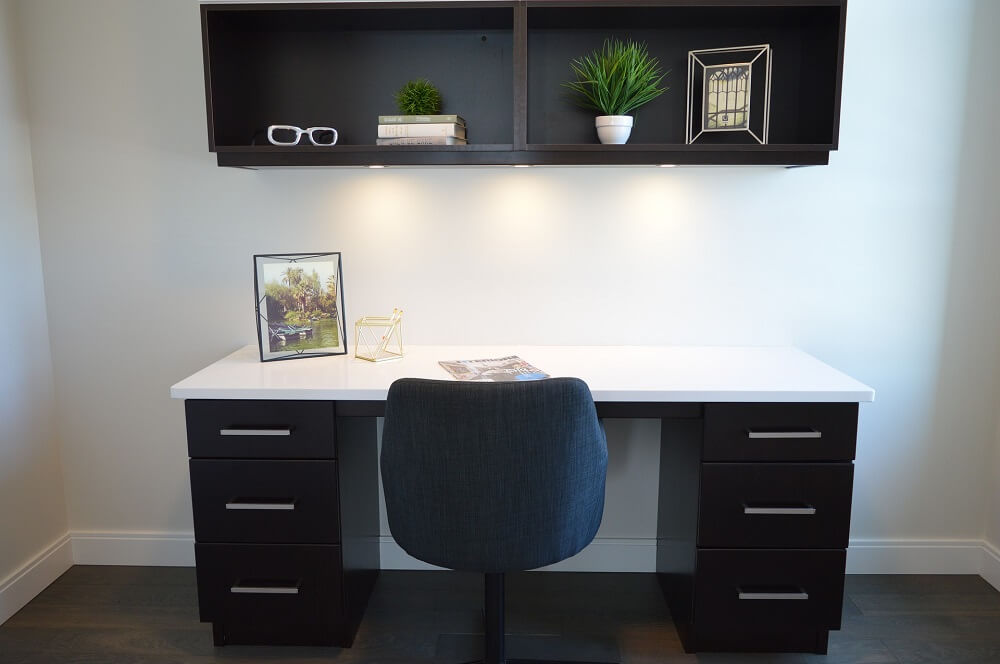 9. Repurpose An Old Step Ladder As A Shelf
If you've got an old wooden step ladder lying around and you need more shelf and storage space in your home office why not jump on this trend and repurpose it as a shelf.  Sand it back and throw a fresh lick of paint on, white is classic, but you can also match any color accents you have in the home office. Then you can stack books, plants, or any supplies on the steps for an easy and on-trend storage solution.
10. Create More Space With A Mirror
Positioning a large mirror against one wall will help the home office to feel bigger than it is, creating a sense of space. Use this trick on whichever wall feels the most closed off in your home office and suddenly you'll double your perceived space.
11. Add A Touch Of Inspiration
Often when setting up our home office space we think about what we need and not what we want. While it's important to focus on the essentials it should never be at the cost of the small flourishes that lift us up at the end of a long day. Add a touch of inspiration with a beautiful framed photograph or picture, add a shelf and put up any awards you won, or create a mood board where you swap in and out the things you are most passionate about in your career at the moment.
These little budget-friendly tips will help you find some fun while redesigning your home office without breaking the bank.