Wanting to improve your home, but you're on a strict budget? Or are you unhappy with things you see in store because you want to add your own creative spin? There are many DIY improvements you can do to improve your home and put your own personality into your home decor. Make these changes to your home today for a beautiful home that you have made yourself, without breaking the bank!
Using Shelves As A Feature Piece- 
One of the many ways you can really make your home look more interesting is through the shelves you have in your home. There are many ways in which you can improve your shelves yourself- adding a lick of paint or varnish in a bright or pastel colour can really make your shelves pop against plain walls. If you don't have many shelves, there are multiple ways in which you can make your own cheaply. Getting cheap crates and stacking them together can create a cool European effect, especially if you paint the crates in contrasting colours. This is a great shelving option for books and other heavy home decorations.
Create Custom Tiles- 
Have you yet to find Kitchen or Bathroom tiles that really communicate your aesthetic or creativity? If you want to make your tiles completely from scratch, you can make them from clay and use a clay slicer, although you will need a access to a kiln for this. The clay you use will need a high amount of grog, such as sculpture clay. However, you can get ready-made clay tiles that you just need to paint. If re-tiling your whole home is a bit ambitious on your budget or schedule, why not use your tiles for a feature backsplash? This is a great way to add personal touches to your home.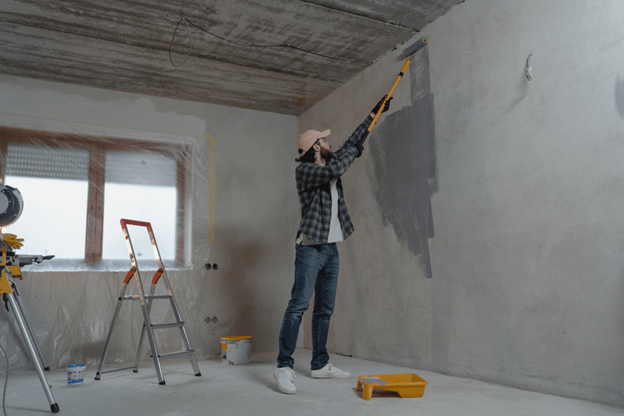 Use Your Walls as A Collage- 
If you find that your walls are too plain and boring, creating a collage effect when putting up your pictures can be a great way to add a bit of intrigue to your home decor. You can organise family pictures by the predominant colour, which could add a lovely rainbow effect to your walls. You could also do a couple of themed walls. For instance, you could collect all of your travel pictures and postcards and arrange them in your entrance hall for a really cool wall collage. This is such a fun thing to do and it costs very little.
Make Your Own Window Box- 
Do you live in an apartment, and want to add a bit of the natural world to your home? Window boxes are a great way to add a bit of colour to the front of your home. Window boxes are also pretty simple to make. Take any galvanised tub or bucket, and with a drill add drainage holes in the bottom, as well as handles so it will fit onto your window. You can make these window boxes look amazing with an artistic paint design or varnish.
Strip And Stain Cabinet Doors- 
Improving your cabinets is one of the best ways you can completely transform the look of your home. Cabinets with a natural look are very popular right now and have always been a timeless classic. Stripping the paint on your cabinet doors and putting a wood stain on them can make it look as if you have had brand-new cabinets installed! Replacing the old handles with new ones can also intensify this effect. This is a great way to make it look as if you have a completely brand-new kitchen in just a few hours!
Get Painting- 
Never underestimate how much a lick of paint could really improve your home. The colour of your spaces has a massive effect on your mood and how you feel about your living area. Giving your walls or other upholstery a paint makeover can be a great way to inject life back into your home. You don't just have to stick to the walls either- floors and ceilings can also be painted to breathe life back into your living spaces. Fabric paint is also a fantastic way to revamp your homeware! Curtains, cushions, and even fitted bed sheets can be improved a lot with a bit of fabric paint design and make your homeware look unique and display your creativity.
Improving your home doesn't have to break the bank- just doing a few of these changes can make sure your home looks beautiful.