If you are a pet owner, you probably consider your pet a member of the family. Now, when planning travels or vacations, you carefully consider your pet's demands, care, and well-being. In such cases, pet-friendly accommodation can be of assistance to you. In such places of accommodation, you can carry along your pets on your travels. This is because such places treat your pets with the same respect that they treat you.
You would like to know that a pet-friendly accommodation also gives your pet snacks and toys to make the entire experience as pleasurable for the pets as it is for the people. Pet-friendly accommodations also include towels, good-quality food, mattresses, blankets, and gift baskets.
Issues Faced By A Pet Lover When Visiting Somewhere
Owning a pet might be a fun thing, but there are issues one may face. A pet is not only something you own, but they are also now a part of a family, and you got responsibility towards them. This situation makes it difficult for pet lovers to go out for visits or trips. Many rely on their friends and neighbors and hand them the pet for a few days to take care of it. This advantage might not be possible for everyone, and your absence can make your pet act differently.
So if you are planning to go out with your friends or family, it is better to rely on a pet-friendly accommodation where they permit bringing pets. This way, you can take care and be with your pet while enjoying going out.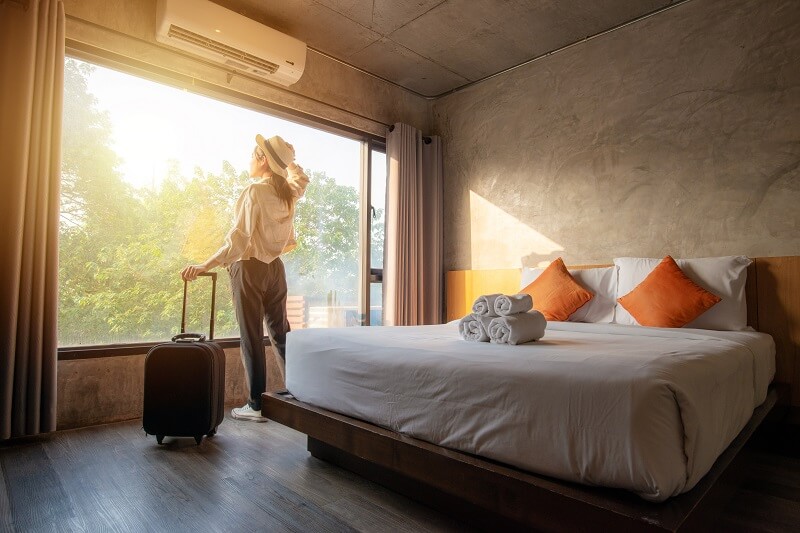 What Are Pet-Friendly Accommodations?
The pet-friendly accommodation is a destination that permits you to bring your pet with you, unlike many other places. Some different hotels or motels provide this feature. Indeed, there might be some rules and regulations to it depending on the hotel. Many hotels permit this as outside the only service. This means you can bring your pet, but you have to keep them outside. Of course, the hotels offer different sectors and proper and protected shelter.
Maybe, you are not fond of this idea and want to stay with your pet in the same room. You can use even arrangers that, as there are hotels that provide inside and outside pet stay. So they offer you the facility to spend time with your pet in the room. However, they might still require sleeping outside in a different sector.
Other hand, hotels, and motels there are pet-friendly holiday parks, where they allow bringing pets. So if you want to visit an amusement park with your pet, a pet-friendly accommodation can be a perfect place.
Rules And Regulations Of A Pet-Friendly Accommodation
Below mentioned are some of the following conditions pets must meet in a pet-friendly accommodation:
Cleanliness is a must
Fleas and ticks should not be there
Vaccination records must be provided.
Pet waste must be cleaned immediately
A pet owner is typically asked to sign agreements in a pet-friendly accommodation declaring that they will be financially responsible for any damage caused by the pet and any costs incurred by the hotel due to pet disturbances.
Conclusion
Being a pet owner has numerous responsibilities, but it's also fun to have a pet around. So when getting out, pet-friendly accommodation is the first thing to choose. These places offer you a place for both you and your pet. So now you can have a great time while also ensuring the safety of your pet. Make sure to read this article a couple of times to choose the pet-friendly accommodation you plan to travel from next time onward.